Secure parking for the cyclist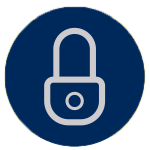 Clamp-IT News
5th Sep 2022
Yellowbike distributes a deck of information for potential investors in the business
27th July 2022
Yellowbike requires £75,000 and now seeks 4 equity investors (£15k) to deliver the Clamp-IT bike theft deterrent. Further information is available below. Those interested are encouraged to contact patrick.darlington@yellowbike.biz.
14th May 2022
WHAT is it?
Clamp-IT is a free, mobile operated, 12 mm chained lock, fitted to existing bike furniture. Our vision is to dramatically reduce bike theft in public spaces and encourage greater bicycle use through our secure and accessible locking mechanism.

WHY? Bike theft is reported to cost the UK economy in excess of £750 million each year. Since lockdown cycling is estimated to have increased by 200%. So has bike theft.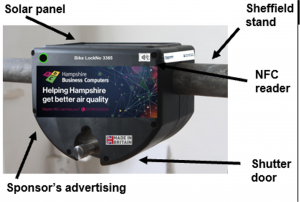 WHO WILL USE IT? Users are ALL CYCLISTS. They will benefit from a free mobile App to access our secure locking unit.
WHERE WILL IT BE? Clamp-IT will be located primarily at train stations, universities colleges and schools, hospitals, public sector buildings, private sector businesses, city centres and wherever bike stands are located. See https://yellowbike.biz/clamp-IT/ for further information
HOW?
To LOCK
On arrival position your mobile phone close to the NFC reader to activate a flashing GREEN light.
Place chain round saddle-post & rear wheel, then chain-end on hook behind the shutter door.
Lower the shutter door to lock.
To UNLOCK
On return position your mobile phone close to the NFC reader to activate a flashing GREEN light.
Take chain-end off hook, release bike. Enter 5-digit PIN from original registration on App to release.
WHO WILL PAY FOR IT? Paid for by sponsorship, the owners or managers of the locations listed above are Clamp-IT's customers. In the High Street, this will include local, independent, global brand-owned retailers who wish to advertise on bike stands close by. Our targeted customers will be Facilities Management at universities, colleges, NHS Foundation Trusts and private sector businesses, the Directors of Property for council-managed properties, security managers at train operators, and retailers on the High Street.

17th Sept 2021
The problem
The Government's Cycling & Walking Investment Strategy seeks to make cycling 'the natural choices for the shorter journey, or as part of a longer journey'.
24% of people give up cycling as a result of the theft of their bike (Transport Research Laboratory 'Cycle Theft in Britain')
£1 billion is to be spent by the Government over 2018/23 to encourage cycling (CWIS 1)
£2 billion package to create new era for cycling and walking (9th May 2020)
Total loss from bicycle theft is put at £230 million by recent Home Office study
There are an estimated 895 bike theft/day, and the Police advise that 4 times more bikes are stolen than reported.
This brings the total number of bikes stolen/day to an estimated 4,475 - equivalent to nearly 3/minute
80% of bike thefts have locks on the bike when they are stolen
Our solution is Clamp-IT
A unit that attaches to existing on-street Sheffield stands
Is controlled via an app using RFID technology
Is solar powered
Will connect through WiFi where there is insufficient GPRS signal
Will work under canopies and dedicated bike shelters
Is free to the user
11th May 2021
Clamp-IT Project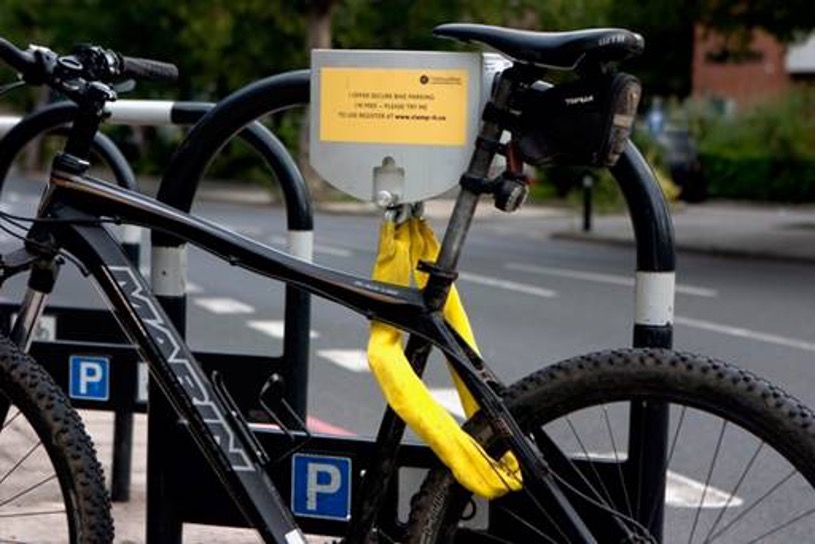 Overview. Clamp-IT is a bicycle lock designed to eradicate bike theft. It is fitted to existing street furniture, operated via a user's mobile and is free to the cyclist. Clamp-IT's markets are universities and colleges, train stations, hospitals, public sector buildings, private sector businesses and city centres. The unit is attached to standard Sheffield stands, displays a sponsor's advertising area, and secures the user's bicycle with a large 12mm chain. Clamp-IT will be available in late 2021.
Ambition. A Home Office study in 1997, when journeys by bicycle in the UK were less than 1,4% of all journeys, reported that the total loss from bicycle theft to be 'in the region of £250 million per annum for England and Wales'. (https://trl.co.uk/sites/default/files/TRL284.pdf). With inflation running at 57.73% since that date, the present value of £250m is therefore £394 million. The Cycling and Walking Investment Strategy published in 2019 records that the government is investing £1,2 billion to increase the number of journeys to 2,8% by 2025. When that point is reached, the cost of bike theft to the UK economy is likely to be in excess of £750 million each year. It is this that Clamp-IT is seeking to eradicate.
Partners. Initial prototype funding came in the form of a grant from Innovate UK. KTN and the Green Growth Platform at University of Brighton, British Transport Police, Network Rail, Oxford University Estates Facilities have guided us. Funding for the commercialisation of Clamp-IT, through app software development, Sold Secure diamond bicycle accreditation and proof of effectiveness trails was agreed in March 2021. Accredited members of the Master Locksmiths Association will install Clamp-IT units throughout the South of England.
Customers. Clamp-IT's customers are the owners/managers at the markets listed above. They see value in Clamp-IT's ability to deter bike theft, the incidence for which they are held responsible. We will therefore target Facilities Management at universities, colleges, NHS Foundation Trusts, and large private sector businesses, the Directors of Property and Highways for council-managed properties and security managers at train operators. The cyclist is also our customer.
Project team. The project team comprises Guy Mason (https://www.linkedin.com/in/guy-r-mason ), Patrick Darlington CEO (https://www.linkedin.com/in/patrick-darlington-448b4121 ), Nick Henry Technical (https://www.linkedin.com/in/nick-henry-a2125836) and Prof Shakeel Ahmad IT Director (https://www.solent.ac.uk/staff-profiles/academic-profiles/shakeel-ahmad/shakeel-ahmad).
How to use. Any user must register on the Clamp-IT app, then use the mapping page to find a Clamp-IT lock. On arrival at the chosen Sheffield stand, the user engages with the lock by positioning their mobile phone close to the NFC logo in the lock to activate a flashing green LED light. Once the chain is threaded through the bike securing both frame and rear wheel, the user lowers the shutter door, which will then stay shut, and the LED will stop flashing. The bike is then secure. The shutter door is unlocked in a similar way. The user is then required to replace the end of the chain on the hook behind the shutter door before departing.
Marketing plan. Following accreditation, Yellowbike will seek to establish proof of effectiveness trials with each of its 6 market segments. At the outset, these will be a) with a leading Train Operating Company to prove its worth for use at the UK's railway station b) at a leading university where Yellowbike is led to believe that bike theft is the No.1 issue on university campus, and c) with a leading NHS Foundation Trust where bike theft is a deterrent to employing staff. Thereafter trials at public sector buildings, private sector businesses and city centres will be explored. Yellowbike will target known bike theft hotspots (recorded in www.police.uk) and be guided by towns with the highest bike theft; this will include Brighton, Bristol, Bournemouth, Oxford, Cambridge, St Albans and the 32 Borough Councils in London. Research has revealed contact email addresses for when the time comes. In Year 2 we target the Midlands, South Wales & Norfolk and in Year 3 Manchester and the North. We will be prepared for referrals anywhere.
Social media will form an important feature in our investment. In respect of each trade sector, we have identified our target, the audience and the message to whom it is directed, and when we plan to start. We plan to focus on our customer who buys the unit as well as the cyclists, particularly those who demand a secure anti-theft deterrent.
6th September 2019
Cycle County Active County Essex 2019 presentation
29th March 2019
The Rose Bowl Southampton which hosted VentureFest South at which Clamp-IT was demonstrated and Yellowbike pitched for equity investment to pay for pilots, the cost reduction exercise and for a sales and service team for Clamp-IT.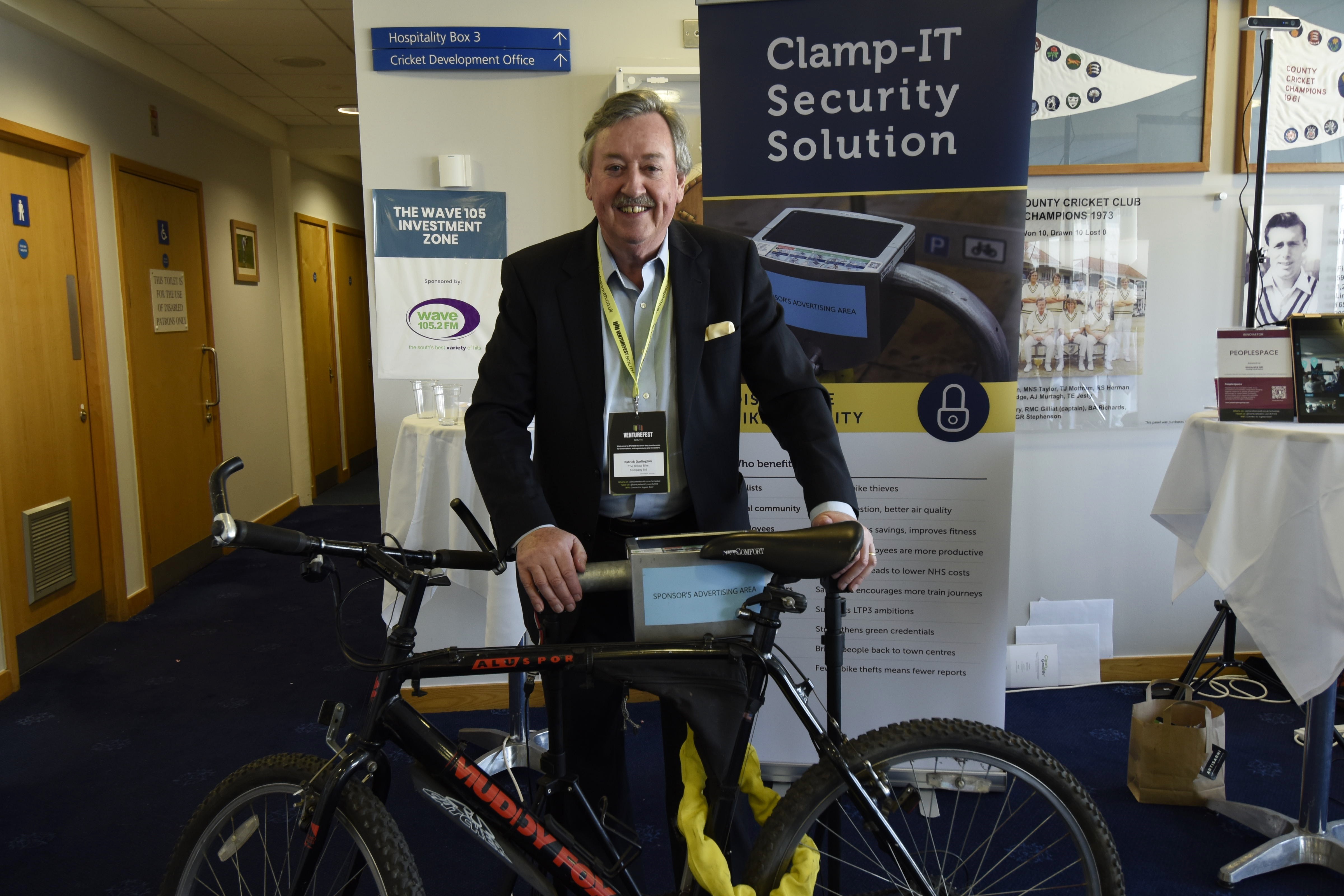 30th January 2019
The Royal Society in London hosted the Rushlight Show at which Clamp-IT was presented and exhibited.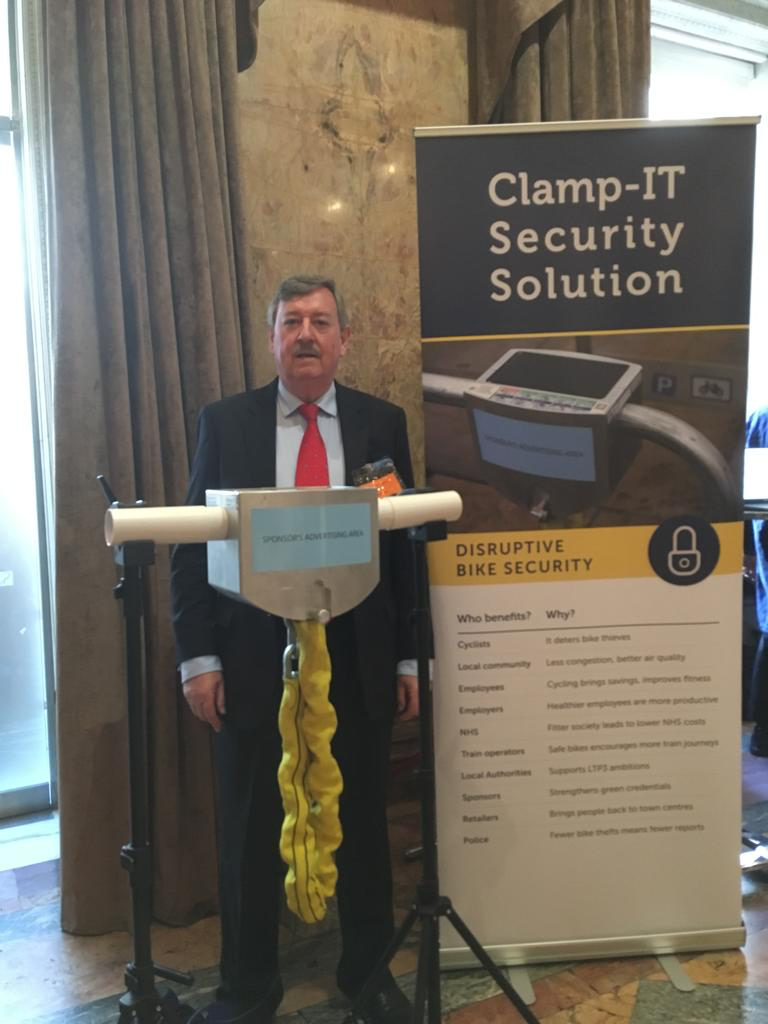 5th December 2018
Presentation delivered to Innovation Showcase at Cycling & Walking Conference
3rd December 2018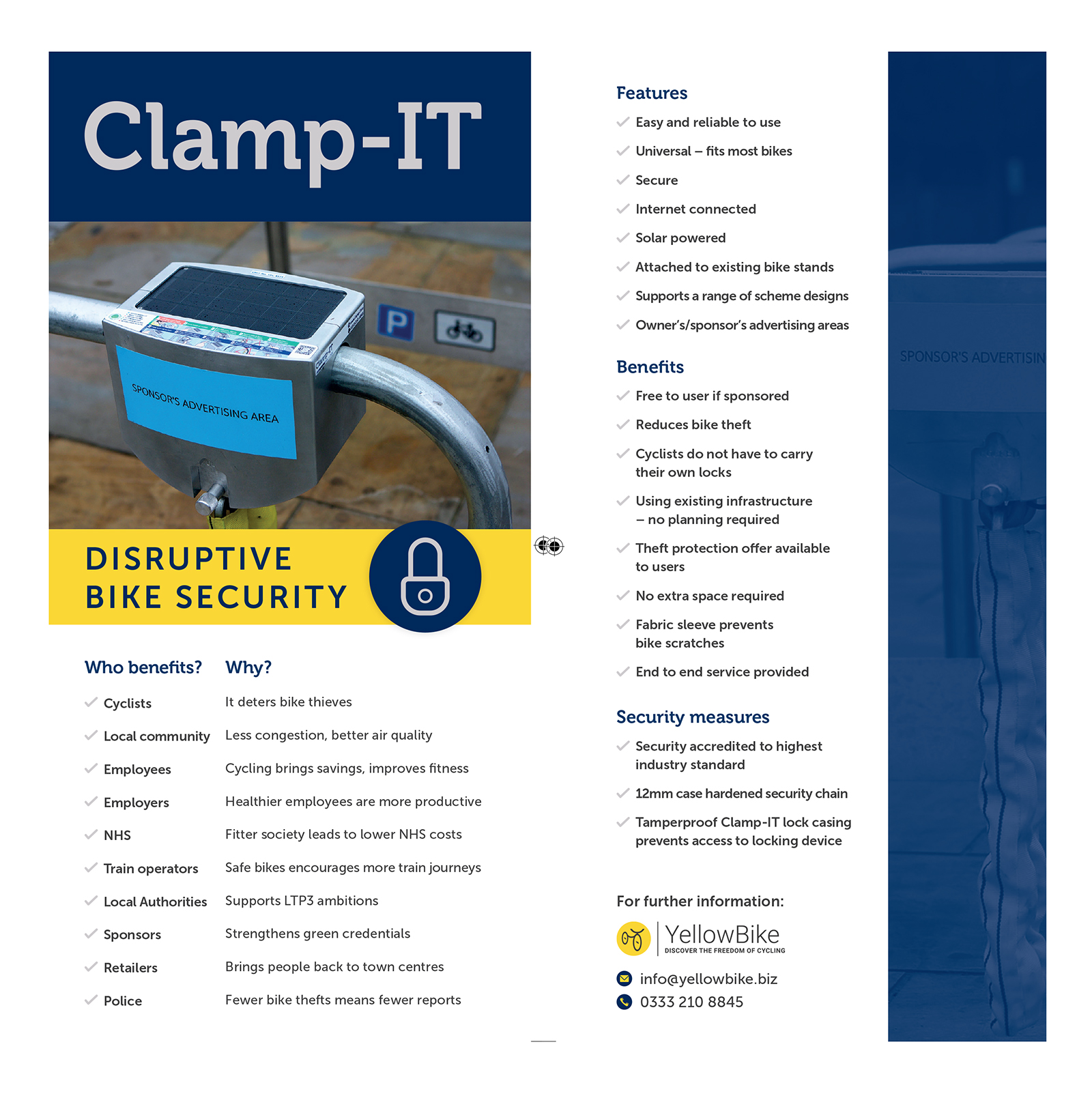 21st November 2018
Yellowbike will be introducing Clamp-IT at the Cycling & Walking Innovations 2018, KIA Oval Cricket Ground on Thursday 5th December.
Clamp-IT - Disruptive bike security
Clamp-IT is a Bike Security Network.
Offering a new deterrent to bike thieves, Clamp-IT seeks to change the lives of all cyclists by providing a network of secure bike locking facilities where ever they go. Accessed through their mobile and located on existing bike stands in city centres, railway stations, places of work, outside gyms and places of entertainment, Clamp-IT offers greater security than hitherto available on the street.
In the same way that the storage of data moved from a local computer to the Cloud, bringing simplicity to the user, reliability and access anywhere, so will Clamp-IT be another market disrupter by providing security as a service, managing a cyclist's security, taking their liability and letting them get on with an active cycling life.
Clamp-IT is highly configurable, both in operation and in the commercial model. We can support a range of scheme designs, including those that are free to the user when there is appropriate sponsorship.
4475 bikes are stolen every day in England and Wales – equivalent to one every 19,3 seconds. Our mission is to eradicate bike theft.
Come and visit our stand, listen to our presentation, read our short flyer or visit our website. Best of all, when available, sign up for free and try out our Clamp-IT service and tell us what you think?